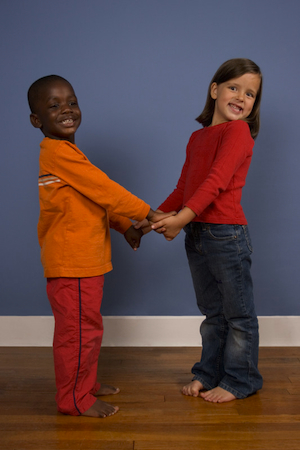 Is the United States of America a society in regression? With each rationalized and exonerated killing of young black men by cop and vigilante, are other regressive malcontents emboldened? Rather than ushering in a new era of racial harmony, the election of a black man to the highest office in the land has brought out the worst sort of hatred imaginable. Vile and treasonous epithets never before uttered publicly against a sitting president are posted daily on social media. The loony fringe has oozed out of the woodwork and taken up residence in main stream US society. Law makers and TV pundits have incrementally introduced racism as legitimate political dialogue. Code words that are palatable but are still racially derisive are used liberally in that dialogue. Civility and self control are non-existent. Who could forget South Carolina's Rep. Joe Wilson's infamous outburst, "You lie!" directed at president Obama at his 2009 State of the Union Address?
Corporate sponsored media relishes reporting on the juicy details of the lynching du jour and the protest/outrage that follows to boost car and drug advertising revenues, but ignores their culpability in perpetuating the culture of hate. The fact that young black men are being gunned down with alarming frequency by officers of the law and stand-your-ground thugs seems to be of no editorial concern to what passes these days for the fourth estate.
The daily struggle to make ends meet, pay the bills and put food on the table is a difficult enough prospect for most Americans. For the white reader; imagine, on top of everything else, getting up every day and fearing for your life and the lives of your children and loved ones, fearing death at the hands of the very people sworn to protect you. Really think about it. If you are African American you can lose your life for simply being black. Driving while black, walking while black, shopping while black, even sitting in your living room while black can be fatal. If you are an angry white person reading this, listen up. To hate someone for something that is one hundred percent completely out of that someone's control is just plain lunacy.
The bill-of-goods that is racism in this country was sold to us back in the early eighteenth century by the then ruling class who feared that indentured white servants and black slaves might join forces and threaten the status quo. The commonality of those poor whites and slaves coupled with the fact they vastly outnumbered the wealthy land holders and slave owners was a terrifying prospect. To prevent such a natural union between blacks and poor whites, the power elite contrived to pass laws of artificial divisiveness that would pit the two groups against each other; a very old and effective tactic, indeed.
Yale Historian Professor Edmund Morgan said this, "There are hints that the two despised groups initially saw each other as sharing the same predicament. It was common, for example, for servants and slaves to run away together, steal hogs together, get drunk together. It was not uncommon for them to make love together. In Bacon's Rebellion, one of the last groups to surrender was a mixed band of eighty negroes and twenty English servants." Morgan further states, "Virginia's ruling class, having proclaimed that all white men were superior to black, went on to offer their social (but white) inferiors a number of benefits previously denied them. In 1705 a law was passed requiring masters to provide white servants whose indenture time was up with ten bushels of corn, thirty shillings, and a gun, while women servants were to get 15 bushels of corn and forty shillings. Also, the newly freed servants were to get 50 acres of land."
(In the interest of full disclosure I must add that Professor Morgan's mention of Bacon's Rebellion was to illustrate the cooperative union between black slave and indentured white servant. Bacon, in actuality, was a self-serving opportunist and a murderer.)
So, with the stroke of a pen, it was advantageous to be white. Abracadabra, poor white was superior to poor black. Let the race hate begin. White supremacy is not only fallacy, but an insidious anachronism that serves the sole purpose of maintaining the status quo of the power elite. I am an old white guy, but except for the color of my skin I have zero in common with, let's say, old white parasite David Koch or slightly younger white parasite Jim Walton of WalMart infamy. I don't think they even breathe the same air I do, but I can definitely identify with and relate to the ninety-nine percent of us that are working and contributing to our society, be they black, brown, red, yellow or white.
We are at a crossroads similar to that time three centuries ago when the ruling class recognized their vulnerability and manipulated the law to maintain their supremacy. Our present one percent oligarchy, fearing the inevitable, is corrupting our once representative government. In their panic to maintain control they are methodically spying on US citizens, building up military firepower in civilian police forces, creating laws allowing the military to arrest civilians and detain them indefinitely for the first time in our history (NDAA), dismantling our Bill of Rights making peaceful change impossible and once again, fanning the flames of racial divisiveness.
The one-two punch of divide and conquer in conjunction with Orwellian perversion of law is proof of the desperation of these sociopaths. I would hope all thinking citizens of this country would recognize these transparent tools of propaganda for what they are. Writer and political philosopher John Ralston Saul accurately sums it up, "we have undergone a corporate coup d'état and now live under a species of corporate dictatorship." The hijacking is complete, the frog is boiled and all we are left with is civil disobedience…
 ~~~~~~~~~~~~~~~~~~~
Alex lives with his wife, Anna in Key West, Florida. He enjoys writing poetry and prose and making the complacent uncomfortable.
More from other sources:
http://www.truthdig.com/report/item/no_justice_for_michael_brown_20141014
http://nymag.com/daily/intelligencer/2013/07/questlove-trayvon-martin-and-i-aint-shit.html
http://www.historyisaweapon.com/zinnapeopleshistory.html
http://www.montpelier.org/constitution/bill-of-rights?gclid=Cj0KEQjw_IKiBRD7rPqut_OZ4qgBEiQASm4GAqURK-3-4mh7TU6svKeyIKynB1N5cJr6-aZKu7EAnxoaAiBm8P8HAQ
http://en.wikipedia.org/wiki/Three-Fifths_Compromise
https://www.aclu.org/blog/tag/ndaa
http://www.cnn.com/2009/POLITICS/09/09/joe.wilson/
http://en.wikipedia.org/wiki/Bacon's_Rebellion
http://www.truthdig.com/report/item/the_imperative_of_revolt_20141019