Monthly Artisan Market Kicks Off New Season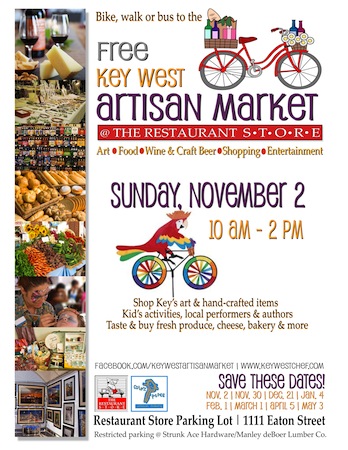 The much anticipated Key West Artisan Market will kick off a new season on Sunday, November 2nd from 10 am to 2 pm at the Restaurant Store parking lot.
The event gives residents and visitors alike a chance to shop fresh and local. The parking lot at 1111 Eaton is transformed into a showcase of art, photography and unique local handicrafts made exclusively in the Keys in one convenient location. There will be entertainment, demonstrations and sampling.
Guests will be able to taste and buy local specialties including fresh Cole's Peace bakery items, expanded farmer's market fruits and vegetables, shrimp, smoked meats, cheeses, wine, honey, salt and spices, olive oil, honey, bacon jam and other culinary delights.
Concessions, wine and a broad craft beer selection will be onsite. At least four brews from Old Island Brewing, located within the Restaurant Store, will be featured.
Local participants are juried each market for vendor stalls. Demonstrations, musicians, performers & non profits may qualify for free or reduced space.
Visit www.planetreg.com/KWAM for information. Space is still available for the November events.
Please mark your calendars for the entire season of Artisan Markets. Dates have been set for most first Sundays of the month with two bonus markets.
November 2 –Welcome Back (Parrot Heads!)
November 30 (bonus market – Art! Key West edition)
December 21 (bonus market – Holiday/Shop Local edition)
January 4 –Green & Sustainability edition
February 1 – Key West Food & Wine Festival Wine Market
March 1 – Free Wheelin' edition & Custom Bicycle Show
April 5 – Mote Marine Ocean Festival edition
May 3 (tentative) – Conch Republic Days edition
Guests are encouraged to ride bikes or the bus which conveniently stops in front of the Restaurant Store. Parking at Strunk Ace Hardware and Manley deBoer Lumber Company will be extremely limited. Please BYOB (bring your own bags).