Apathetic Losers or Leisure Users?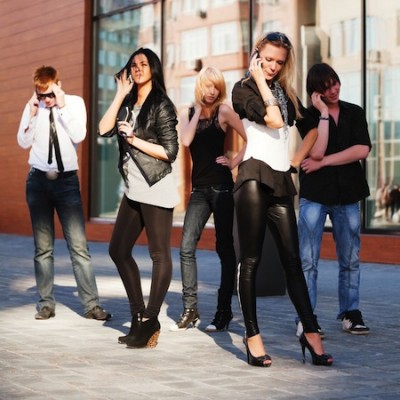 In the published responses to last week's column on the death of the middle class, the always-ascerbic Keysbum dared to dump on me for "blaming the victims" of our "fascistic" corpora-tocracy. He's right. I blame them for allowing and even helping create their own miserable job conditions. But I have reflected on Keysbum's barbs and am playing with the idea: have the losers actually won?
My own shocking epiphany, which shocks even its creator, is that the same conservative politicians serving the corporations and top 1% may be serving the poor workers better than the poor have ever been served in history. In brief, the poor and blue-collar lower middle class, where I come from, don't want the union factory jobs we have shipped overseas, even with their health care and fixed pensions. What they want is stuff. Tons of cheap, glittery stuff. And the corporats, with their bought-and-paid-for politicians, have given them more than we ever dreamed of having during our well-employed 1950s and '60s.
For some years now I have taken the unique position that what is wrong with American democracy is not the corporations and their political lackeys. I have blamed the sacred American electorate. Not, to be clear, anyone who reads any journalism like the Blue Paper, who thinks, understands, and votes. But rather the impassioned Tea-Party types I have carefully described as "mean spirited idiots" and their contrapositives on the left, whom I will now describe provisionally as "apathetic losers." These two groups have taken over enough of our elections that they have nurtured the corporate and political leadership that sends their jobs and pensions to China.
To briefly recap, the "mean spirited idiots" are the Tea Party types, the movement born of of resentment NOT at the bailout of the megabankers who caused the 2007 crash, but of the only steps being taken to help the victims, modifying their crooked mortgages. The Tea Partiers resent even benefits given to their own class–they can understand a mortgage modification, and if it is not their own, they don't want anyone to get one. But spending a trillion dollars of stimulus money not to make job-creating loans, but rather to buy treasuries at zero percent from the Fed and collecting 1% by buying other treasuries on the open market, the Tea Partiers are just fine with that, because they are too stupid to understand–or, worse, they wish they could get a cut of that action themselves.
The most extreme version of the "mean spirited idiot" is my own flesh-and-blood brother. He started his own skin-head gang at 14, ahead of the curve, to hate Jews and Blacks, using the n-word. He went on to join the worst kind of motorcycle gang, the kind that dealt drugs and killed competitors. He's lived a life on welfare and other government and family benefits. I cut off ties when my parents and sister died.
He votes republican because it's the only time of the year when he can feel like a member of the ruling class, and because they hate Jews and Blacks the way he does, and scorns poor people like him as much as he scorns poor people and himself.  Really.  My god, this is harsh, but don't tell me I don't know what I am talking about, because I have lived with my brother and his ilk half my born days. I have standing to talk this way–and they deserve to be called out on it.
On the other side of the electorate are the poor and underemployed who bemoan their fate, but don't do anything about it, like vote in their own best interests (wait, I am going to reconsider those best interests in a bit). I monitor the myriad media portrayals of working poor losing their jobs and living three families to an apartment for any indication these people even vote, much less actively work for their political best interests. I've seen one out of the last couple of hundred with a political poster on her wall.
I think the grandest and most self-destructive illusion of democracy, one that may kill it as a political dinosaur, is that the electorate is always right. When a public union member in Wisconsin votes for Scott Walker, as 37% of them did, or doesn't vote at all, it is the fault somehow of the political left for not teaching and motivating them better. When they stay home in the off-year elections, without a charismatic president to lure them in the booths, that must be the fault of weak progressive candidates or the all-powerful Koch brothers and Karl Rove.
No. It is the fault of people who are so apathetic about their own fates they have self-made themselves into the losers they are, at least in the job world. Please, Keysbum and progressives of your ilk, make your excuses for them, stand on your head to blame me, yourself, and the Right for the legions who just sit and take it. They are victims in the sense that a homeowner who leaves his front door wide open and watches an 8-year-old skinny kid walk in and lift his wallet and iPad without lifting a finger to stop him is a victim. If the 99% voted their wallets, the 1% would have as much a chance of getting away with it as my figurative 8-year-old.
The above I have believed for years. Now for this week's epiphany, thanks to Keysbum's barbs. I remember 1958, the height of power for the working man. My dad fixed furnaces. His $ 8,000/year job gave us a three-bedroom (one tiny bath!) Milwaukee bungalow, a new Ford every two years, and a stay at home mom for us three kids. Steak once a week.  Cheap health insurance. A pension plan and job security. Everyone had what we had, and I was under the illusion I was middle class.
Friends' dads worked building car frames at A.O.Smith down the street, or in German-style foundries. I lasted four 4-hour-days one summer when I tried a job there, a program the foundry owner had to give summer jobs to college smarties like me so we could see what the blue-collar industrial world was like. It was beyond miserable. Hot, sharp, heavy things, and an atmosphere reeking of gases inimical to human life. The senior guy with the best job did the same repetitive 22 movements every 3 minutes on a sand mold receiving hot molten steel sublimating into the air and our lungs. I worked long enough to pay for my very-necessary steel-toed boots and safety glasses and ran, lesson learned.
I remember 1958. I had an allergy but no Claritin, so was coughing and sneezing 8 months a year, with a cracked and always-running nose. My teeth were drilled constantly (no fluoride) with a slow drill. The new Ford had a metal dash which almost killed me when my dad made an emergency stop one day, and which stank of lead fumes you could smell across the street when we refueled. The steak was mostly gristle.  The corn on he cob fit for pigs. No zucchini or broccoli, exotic as truffles to us in Milwaukee. The only restaurant I can remember in my first 12 years was a hamburger at a local bar, and similar in cafes on our way to our "vacation," which was mom and we kids crashing at our two grandpa's in Upper Michigan for a month. We waded in frigid lake Superior until our legs turned blue in a few minutes. Our brand-new 12-inch black and white TV flickered constantly, and had 5 channels.
Compare that to what even the non-working poor have now, who neither get to nor have to work in that union foundry. Water parks without dead alewives washed up on shore. Disneyland-like theme parks everywhere. Cheap TVs as vivid as our movie theatre screens were. Cars with seat belts, air bags, padded dashes, and emissions controls.  Clean air.  Clean water. Cheap antihistamines. Moms with the right to jobs, not trapped in bad marriages as mine was.
And the electronics. Can you imagine taking away now what we in the 1950s could not have imagined? Our smart phones, with their self-dialing contacts lists, instant messaging, texting, and all-important cameras that make everyone a star of their own video world via the selfie, Instagram, Facebook and Twitter, plus the ten things invented last month that heighten the stardom of everyone even more. The Internet with Google, ahhhhhh.
Everything above courtesy of the evil corporations that the "apathetic losers" have let the 1% create and own while destroying those union factory jobs they had in the 1950s. A secure job, self-respect on the employment front on the one hand. Lots of cheap stuff, a tasty $ 2 lunch at McDonald's or 100 competitors, the water park and free internet videos on the other.  Maybe NOT "apathetic losers," but "leisure users," anyone?
Thanks for the slap upside the head, Keysbum.  Anyone else out there with some more enlightenment for now-humble Professor Boettger?